Llamas' paintings are beautiful minimalistic realism.  She follows a linear creative process in the development of each idea, often culminating in witty unrelated objects filling the picture plane.  The paintings become visual conundrums to be solved by the viewer.
~ Susan Shockley, Museum Curator, Parthenon, Nashville, TN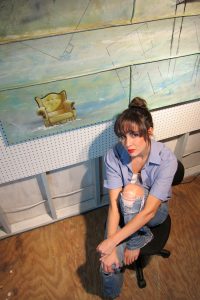 STATEMENT
I am inspired by the interaction of the community referenced for my two-dimensional paintings, as well as my interior and exterior installation work. I measure my artistic success solely on the conversations that the work creates.
ABOUT
Born December 16, 1982, Rochester, New York
Kristin Llamas is a painter and installation artist whose work is guided by collaboration and community engagement. Her paintings combine realism with abstract backgrounds, sewn canvas seams and mirror-written words. Elements within the work hold significant meaning, as this symbolism is meant to create a visual dialogue with the viewer. Llamas' inspiration stems from engaging the community by hosting symposiums and creating partnerships. She works collaboratively on installation work ranging from small gallery pieces to city-wide installations with husband, Alfonso Llamas. The artist couple together makes up the husband and wife artist team, AK Llamas (www.AKLlamas.com). Together, they use the recurring theme of an Amaranth flower- Greek symbolism for the "never fading flower."
The AK Llamas' collaboration began in 2003  with a series coined The Nomadic Project. The couple toured America for 13 months, engaging individuals and art institutions in all fifty states. This series propelled the artist to create and exhibit work around the entire nation. Very early in their careers they exhibited in venues such as the Whistler Museum near Boston, the Ramsay Museum in Honolulu and the Taube Museum in Minot.
In 2008, Kristin and Alfonso have made middle TN their home, developing a studio and raising a family just southeast of Nashville. They have created large scale installation work with the Tennessee State Museum where one of Kristin's paintings resides in their permanent collection. AK Llamas is the founder of an international art movement called The YOUnite Tour, which spans 56 countries. Their installation work was selected for the Nashville International Airport and exhibited throughout Paris, Rome and Switzerland. They have spoken and presented around the United States including a presentation with TEDx Nashville.
Kristin's paintings and AK Llamas collaborations have been frequently written about in publications such as the Salt Lake Tribune, The Alexandria TImes, Nashville Arts Magazine and the Tennessean. The artist is currently under representation with Tinney Contemporary Gallery in Nashville.
For more info about me and my work, contact me by filling out the contact form.

RESUME
AWARDS/ HONORS/ ACQUISITIONS
---
2013 Tennessee State Museum, Permanent Collection, Nashville, Tennessee
2013 Taube Museum of Art, Permanent Collection, Minot, North Dakota
2011 Museum Acquisition, Permanent Tennessee State Museum, Tennessee
2010 Professional Development Support Grant, Tennessee
2009 Professional Development Support Grant, Tennessee
2007 National Society of Arts & Letters Award
2006 Artist Enhancement Grant, Florida
COMMUNITY/SOCIAL PROJECTS
---
2014 Deaderick Street Installation with Tennessee State Museum "#NashvilleSelfie"
2014 Nashville International Airport, Skylight Installation (2 skylights)
2013 Amaranths Tactical Flowers Installation AK-SPQR2, Vatican wall, Rome, Italy.
2013 Amaranths Tactical Flowers Installation AK-PAR4. Le Louvre in Paris, France.
2013 Amaranths Tactical Flower Installation AK-ATH1. Parthenon in Athens, Greece.
2013 Amaranths Tactical Flower Installation AK-SPQR1. Forum, Rome, Italy.
2013 Nashville's Largest Street Art Installation: Paper Portrait Lanterns, Nashville, TN
2013 Nashville's Largest Street Art Installation: Paper Portrait Lanterns, Nashville, TN
2012 YOUnite Tour Movement: A World YOUnited by Art
2008-2011 National Touring of The Nomadic Project: America United by Art
2005-2007 Creation of The Nomadic Project: America United by Art
PRESENTATIONS
---
2014 TEDxNashville "Please Don't Stop Touching the Artwork" OZ, Nashville TN
2014 Socratic Dialogues, Artist talk, Parthenon Museum, Nashville TN (upcoming)
2013 Creativity Moves Conference, Nashville, Tennessee
2012 TEDx Nashville, Tennessee Performing Arts Center, Nashville, TN
2012 YOUnite Tour, Mezzanine Gallery, Nashville TN
2012 The Host Gallery, "The Nomadic Project: Beyond the Canvas", Mobile, AL
2008 State Street Gallery, Gallery Talk, Madison, WI
2008 Homewood Studios, Artist Talk, Minneapolis, MN
2007 University of South Carolina Art Discussion, Center for the Arts, Aiken, SC
2007 South Aiken High, Open America, Aiken, SC
2006 Mansfield Center for the Arts, Painting America, Mansfield, OH
2006 Discovery School, Student Assembly, Mansfield, OH
SOLO EXHIBITIONS
---
2013 "Socratic Dialogues," Parthenon Museum, Nashville, TN
2013 "The Mind of A Cereal Artist," Mezzanine Gallery at the Viridian, Nashville, TN
2013 "America In Art," Mezzanine Gallery at the Viridian, Nashville, TN
2013 "Paper Portrait Lantern Installation," Tennessee State Museum, Nashville, TN
2013 "America in Art," Springfield Inn Gallery, Springfield, TN
2012 "Our Time Exhibition," GJCC Gallery, Nashville, TN
2012 "The Nomadic Project: Beyond the Canvas" The Host Gallery, Mobile, AL
2011 "Lullaby and Awake," GJCC Gallery, Nashville, TN
2010 "Madonna and Child," GJCC Gallery, Nashville, TN
2010 "New Works of K. Llamas," Hannah Davis Gallery, Memphis, TN
2009 January Featured Artist, State Street Gallery, Madison, WI
2008 Experience America Through Art, Homewood Studios, Minneapolis, MN
2008 The Nomadic Project, Minot Museum of Art, Minot, ND
2008 The Nomadic Project, Sioux Falls Empire Arts Council, Sioux Falls, SD
2008 Open America, Utah Artist Hands, Salt Lake City, UT
2007 The Nomadic Project, Journeyman Gallery, Naples, FL
2007 The Nomadic Project, The Aiken Center for the Arts, Aiken, SC
GROUP EXHIBITIONS
---
2014 Customs House Museum, Clarksville TN "Women's History Month Exhibition"
2013 "YOUnite Tour," Galerie Quint-Essences, Neuchâtel, Switzerland
2013 Trespass Gallery, Clarksville TN "Opening Exhibition"
2013 Small Works Exhibition & Auction, Taube Museum of Art, Minot, ND
2013 "YOUnite Tour," Mezzanine Gallery at the Viridian, Nashville, TN
2013 "YOUnite Tour," Aiken Center for the Arts, Aiken, SC
2012 The Host Gallery, Mobile, AL
2011 Creative Genius, Medford, NJ
2011 Hannah Davis Gallery, Memphis, TN
2010 White Christmas, The Host Gallery, Mobile, AL
2009 November Exhibition, Talents Studio, Springfield, TN
2007 The Wallflower Gallery, Miami, FL
2006 Ramsay Art Museum, Honolulu, HI
2006 Kirsten Gallery, Seattle, WA
2006 Aesthetic Eye, Chicago, IL
2006 Carla Schmidt Gallery, San Francisco, CA
2006 American Fine Art, Dallas, TX
2006 Ward-Nasse Gallery, New York, NY
2006 State Street Gallery, Madison, WI
2006 Homewood Studios, Minneapolis, MN
2006 Habitat Gallery, Denver, CO
2006 Sawtooth School of Art, Winston-Salem, NC
2006 Light Street Gallery, Baltimore, MD
2006 Art 3 Gallery, Manchester, NH
2006 Ember Grove Gallery, Portland, ME
2006 LAMP Fine Art, Indianapolis, IN
2006 Utah Hands, Salt Lake City, UT
2006 Virtu Gallery, Anchorage, AK
2006 Portland Art Center, Portland, OR
2006 Art Encounter, Las Vegas, NV
2006 Terbush Gallery, Sedona, AZ
2006 Durden Gallery, Memphis, TN
2006 American Fine Art, Dallas, TX
2006 Fayette Gallery, Lexington, KY
2006 Crossroads Contemp., Santa Fe, NM
2005 Art For Act Gallery, Fort Myers, FL
2004 Artemesia Gallery, Venice Florida
2002 Florida Gulf Coast University, Fort Myers, Florida
2001 The Shell Factory, Fort Myers, Florida
2000 Florida Gulf Coast University, Fort Myers, Florida
1998 Memorial Art Gallery Student Show, University of Rochester, Rochester NY
EDUCATION
---
2002-2003 Apprenticeship, Cary di Valentin, Fort Myers, Florida
2002 Florida Gulf Coast University, Estero, Florida – no degree
BIBLIOGRAPHY
---
Nashville Arts Magazine, SPECIAL FEATURE, "The Inspiration," December 2013
The Tennessean, The Parthenon: Socratic Dialogues, Visual Arts Spotlight, Michelle Jones, October 13, 2013
The Tennessean, "Street art exhibit features 140 faces," Nancy DeVille, Apr. 17, 2013
Nashville Arts Magazine, "Kristin Llamas: The Upside of INSIDE OUT," Michelle Jones, April 2013 Issue
Nashville Arts Magazine, "Kristin Llamas: Our Time', Michelle Jones, October 2012Issue
News Channel 5, Talk of the Town, Art in the Park, October 5th, 2012
Nashville Arts Magazine, "Socrates and Art", Editor, June 2012 Issue
The Mobile Press Register, 'Nomadic Project' artwork on view at Host Gallery," Thomas B. Harrison, March, 11th 2012
The Observer, "April Exhibit at GJCC features two New York Artists," March, 2009
The Tennessean, "One Couple, 13 Months, 50 states and paintings," Michelle Jones, June  14th, 2009
Salt Lake Tribune, "'Nomadic' Couple Paints Each State with Gusts of Wind, Slants of    Light" Julie Checkoway, June 8th, 2008
15 Bytes, Exhibition Spotlight, "On the Road Again,"Shawn Rossiter, June 8th, 2008
Salt Lake Magazine, "The Nomadic Project Settles In," June 4th, 2008
Naples News, Critics Pick "Experience America Through Art", Sarah Feldberg, December 10th, 2007
The Aiken Standard, "The Canvases of Humanity", Marti Healy, October 24th, 2007
Star Bulletin, "Art project spans the nation", December 27th, 2006
WORT-FM, Madison Wisconsin, "The 8 o'clock Buzz," December 23, 2006
KY3 Springfield, MO, "The Nomadic Project", NBC affiliate, December 21, 2006
The Providence Journal, "Nomadic Artists leave a painting in every state", Bryan Rourke, December 21, 2006
The Alexandria Gazette, "'Nomadic Conclusions", Greg Wyshynski, December 13, 2006
Fox 42 KPTM, "'Two artists and fifty galleries connect the U.S. through art", Community Correspondent, December 13, 2006
Art Ella Daily Muse, "Fifteen States Connected By Art," Headline Story, August 30th, 2006
Argus Leader, "Nomadic couple heads to 50 states to create," Jay Kirschenmann, Sunday, August 20, 2006
News-Star, "Art Project Through States Going Strong," Barbara Boxleitner, May 20th,    2006
The Chattanoogan, "Nomadic Project Headed For Chattanooga," December 12th, 2005